The Plant Pledge Update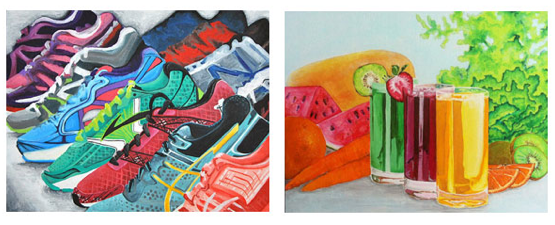 The Plant Pledge is a children's book about how smart and fun it is to eat vegetables. I have been working in collaboration with the author, Kate Murray, to illustrate the book. Kate and I initially introduced the project in September of 2014. We're moving along, slowly but surely! Life has thrown the project for a couple of loops, but a few more illustrations for the book have been completed and the word is continuing to spread. Kate is doing everything for the book, from the PR to the publishing. She just hired me for the fun stuff…the coloring.
Her hard work has enabled her to reach another milestone in her effort to spread the word on the fabulousness of nutrition. Her organization, A Silent Cure in my Back Yard, is now officially a 501(c)3 Non-Profit Organization! She's updated the website to reflect the change of status and will be announcing it on her social media channels soon! I think the new website is fabulous. If you haven't already, check it out and please "Like" her Facebook page and encourage your friends to as well!
Also we'd like to remind you that the donation platform for the new book is still active on Kate's website. (click The Plant Pledge at the top of the article) 100% of all money raised is allocated toward funding the Children's Book publication. Additionally, all proceeds from any sale of her first book, A Silent Cure in my Back Yard, are also being allocated toward the children's book project. While this is a slower process than a quick fundraising effort, we will continue to keep you updated as the project moves along. Note that as of February, 2015, all donations are federally Tax Deductible to the fullest extent of the IRC  Section 501(c)3. 
Thank you so much to those of you who have already made a contribution! Kate and I truly appreciate your support of this project, it is through your continued support that we can work together to make a difference in the lives of future generations!
I encourage you to make a donation or sign up for Kate's e-newsletter. It contains great links, tips, health happenings, and opportunities like
Kate's Healthy Recipe Contest
.